Hola chicas! que tal están? espero que hayan tenido una semana genial!! la mía fue algo estresante pero ya estoy libre! ya terminé mis clases de práctica y ahora tendré más tiempito para mi, mi canal, el blog y por sobre todo descansar.
Hi girls! how are you? Hope you had a great week!! mine was kind of stressful but I'm already free! I finished my classes for my professional practice and now I can have some time for me, my channel, blog and of course I can rest.
Y con el descanso retomaré mi dosis semanal de yoga (una de mis metas para el 2013), y volveré con mi actividad diaria, esta vez quiero compartirla con ustedes, porque es algo que llevo haciendo desde hace un tiempo y la verdad que ha resultado bastante bien. Se trata del juego "Just Dance", un juego que consiste en bailar, distintas canciones dependiendo del género que te guste (hay un menú con una lista) y cada canción tiene una serie de movimientos distintos los cuales hay que hacer marcando los pasos. Lo bueno de este juego es que como estás en constante movimiento quemas calorías! y si eso fuera poco contiene un contador de calorías por cada canción.
And with this rest I'll start again my weekly yoga sessions (one of my goals for this 2013) and I'll start again doing some exercise, and this time I want to share it with you girls, because I've been doing this for a while and it actually works pretty good! It's about a game called "Just Dance" and is basically for that, dancing, you can choose different songs according to your preferences (there is a menu with a list) and each song has some movements that you have to do according to the different steps. The good thing about this game is that you are constantly moving! and also it has its own calories counter!
Está disponible para las consolas wii, play station 3 y xbox 360 que tengan kinect. En el caso de la consola wii te mide solamente los movimientos de la mano pero la idea es bailar con el cuerpo completo, el sistema de la ps3 es parecido, y en el caso de la Xbox ya te mide el movimiento corporal completo ya que el kinect tiene un sensor.
It's available for nintengo Wii and Xbox 360 (with kinect). For the wii it only counts the movements from your hand but the idea is to dance with your whole body, for the ps3 it's a similar sistem, while in the case of the xbox it counts the whole body movements because the kinect has a sensor.
La primera vez que jugué esto fue en la casa de un amigo, y estaba super perdida! pero me encantó tanto que cuando mi hermana se compró el wii lo primero que hicimos fue comprar el juego! actualmente existen 4 Just Dance, y en cada uno de ellos existen canciones distintas. En el número 4 aparecen temas más modernos (Good Feeling, Call me maybe o Moves Like Jagger) y luego salieron las versiones descargables como Gangnam Style, We R who we R o the Lazy Song.
The first time I played this was in a friend's house and I was really lost! but I loved it so much that when my sis got her wii the first thing we did was buy this game! Today there are 4 different Just Dance, and in each of them you can find different songs. In the 4th one you can find more modern songs (Good feeling, call me maybe or moves like Jagger) and after there were some dowload songs like Gangnam Style, We R who we R or the Lazy Song.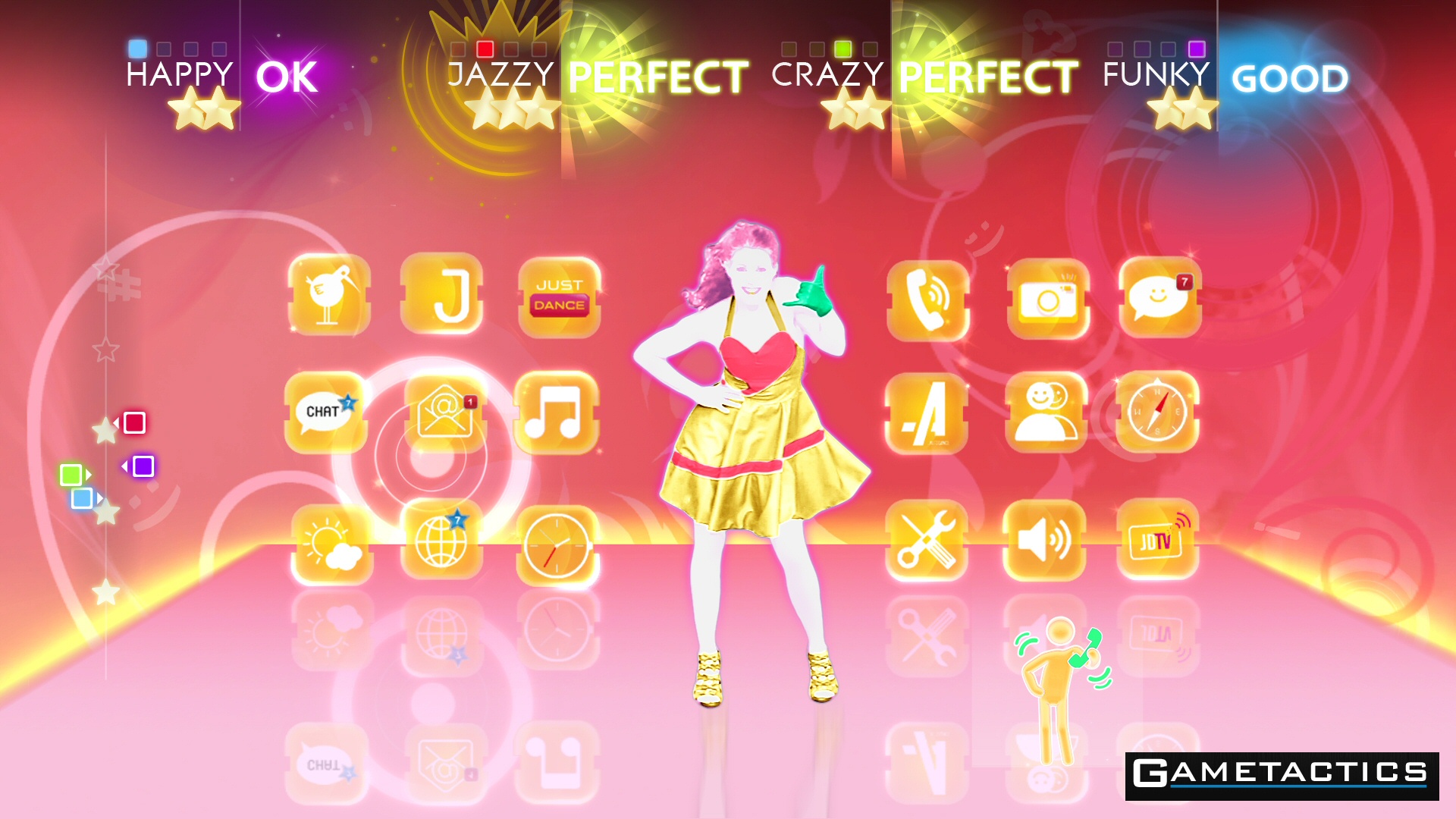 Y bueno, aparte del contador de calorías, existe una aplicación para un conteo diario de calorías, o sea un programa semanal en el cual vas bailando diariamente y las calorías se guardan en la memoria y al final de la semana cumples el desafío.
And there's not only the calories counter, but also an application for a daily calories counter, or a weekly program in which you dance daily and all the calories you spent are keep in the memory until the end of the week to accomplish your challenge.
En resumidas cuentas, es mi actividad física favorita para hacer en casa cuando no tenemos ni tiempo ni dinero para ir al gym. Sumándole que me encanta bailar!! y las canciones son variadas! el cardio que se llega a hacer en una sesión es buenísimo! así es que 100% recomendado para las que no vamos al gym pero queremos hacer algo de ejercicio en la casa :) Y bueno, los videos están en YT también! por si quieren pasar a verlos :) les dejo aquí algunos de mis favoritos y que nunca faltan en mi rutina de baile! :D
So, this is my favourite workout to do at home when we don't have enought time or money to go to the gym. Plus I really love dancing!! and the songs are different! the cardio that you can do in one session is great! 100% recommended for those who don't go to the gym and but still want to do some workout at home :) And well you can also find the videos on YT! if you want to watch them :) here I leave you some of my fav that can not miss in my dancing routine :D
Y bueno por ahora estoy esperando ansiosa la última versión llamada "Just Dance 5" que será estrenada el próximo 2014, pero les juro que no puedo esperar a tenerla!! las canciones se ven demasiado buenas! Y ustedes chicas ¿han jugado este juego? ¿que les parece para hacer ejercicio en casa, les tinca o no? Espero les haya gustado el post :) y que tengan un lindo FDS!!! las amo!!
So now we're waiting for the last version of the game, Just Dance 5 which will be out next 2014, but I can't wait!! the songs are really good! And what about you girls? Have you ever played this game? What do you think about doing this workout at home? Hope you like the post :) have a nice weekend!! love you!
<3<3<3