como están? espero que super! hoy les traigo un nuevo post sobre Tendencias, esta vez del delicioso color mostaza para esta temporada de otoño. Que puedo decir, me ENCANTA este tono, lo encuentro demasiado lindo, y se puede llevar ya sea en piezas de ropa, accesorios, zapatos o joyas. Y creo que va perfecto con el otoño, en estos días mas fríos y que van en armonía con la temporada.
How are you? hope you're doing great!! today I bring you a new trend port, this time is about the delicious colour mustard for this autumn. What can I say, I just LOVE this colour, I think is too cute and you can wear it in pieces of clothes, accesories, shoes or even jewerly. And it's perfecto for the autumn when the days are colder.
Quizás para algunas esta tonalidad no sea la favorita, pero no cabe duda de que es uno de los favoritos durante esta época, ahora bien si no te gusta tanto el tono mostaza, puedes optar por sus otras tonalidades, amarillo, amarillo pastel, beige, etc.
Maybe for some of you this is not your favourite colour, but there's no doubt that is one of the favourites during this season. Now if you don't like mustard colour that much, you can choose other of its tonalities, yellow, pastels, beige. etc.
Como dije este color es demasiado lindo, y ya se esta viendo en prendas como vestidos, cardigans, abrigos, faldas, blusas o tops, además de accesorios como carteras, sombreros, medias, zapatos, botas, o inclusive joyas. Y lo mejor es que se puede combinar perfectamente con tonos parecidos como el camel, beige o café.
As I said before, this is a lovely colour, and you can see it in dresses, cardigans, trenchs, skirts, blouses or tops, also in accesories such as bags, clutches, hats or tights, in shoes, boots, or even jewlery. And the best part is that you can perfectly mix it with tonalities alike such as camel, beige or brown.
Sin duda los diseñadores ya mostraron que este tono está dentro de sus favoritos, y ya se pueden encontrar en H&M, Lanvin o Benetton. Además de que las celebridades ya lo eligieron dentro de sus favoritos durante el otoño - invierno 2012.
And also famous fashion designers already showed this colour as their favourite, and you already can find it in H&M, Lanvin or Benetton collections. Also celebrities are already wearing it and choose it as their favourite during this autumn - winter 2012.
Y es que durante estos días fríos algo de color es lo ideal para subir los ánimos, mientras que regresan los tonos oscuros, los grises y burdeos, el color mostaza nos llena de vida. ¿Cómo llevarlo? puedes mezclarlo ya sea con las tonalidades parecidas, pero también q

ue hermoso con tonalidades como el azul marino y teal, verde esmeralda oscuro, granate, burdeo, o inclusive con prendas de "animal print" y por su puesto los básicos del otoño - invierno que son el negro y gris. Pero también el color block sigue tan de moda como en el verano, y mezclar los tonos le darán un toque de color y fuerza durante estos días más fríos.
And because during these cold days some colours are just great to cheer up, while darker tones are coming back, gray and burgundy, the mustard colour fill us up with life. How to wear it? you can mix it with alike tones, but also is looks beautiful with colours such as blue marine and teal, dark emerald green, maroon, burgundy or even with animal print pieces. And of course with the autumn - winter basics such as black and gray.But also the colour block is still in like in summer, so you can mix different tones and these will give you a touch of colour and strenght during these cold days.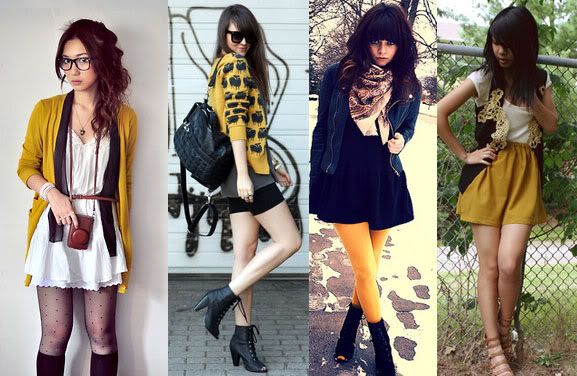 Y tu que tal ¿te animas por esta deliciosa tendencia? Espero les haya gustado la entrada, mil besitos para todas!! y gracias por pasar! (: <3<3<3
So, what about you, do you dare to wear this delicious trend? Hope you like the post, lots of besitos for all of you!!! and thanks for reading!! (: <3<3<3