Hola chicas! como están? espero que super! esta vez les traigo una nueva tendencia que se lleva mucho durante esta temporada, el estilo marinero. Ideal para estos días de calor y mucho sol, los colores que se llevan son el azul, blanco, rojo y negro, en prendas como mini-vestidos, faldas, tops, chaquetas, pantalones, shorts, zapatos, carteras y sombreros, y para cuando haga frío durante las mañanas o las tardes los jerseys en tonos vivos son una buena opción.
Hey girls! how are you? I hope you're doing great! this time I got a new trend that is very popular during this season, the navy style. It's ideal for hot and sunny days, the colours that you are used are blue, white, red and black, in clothes such as dresses, skirts, tops, jackets, trousers, shorts, shoes, purses and hats. And when it's a little bit cold during the mornings or evenings, colourful jerseys are a very good option.
Las rayas, los estampados, las anclas, y toques en dorado son piezas claves para llevar esta tendencia navy, además de que también se ve super en bikinis o traje de baños. Además de llevar accesorios como aros, collares o brazaletes, los cuales van perfectos con bolsos o zapatos adecuados.
The stripes, patterns, anchors and gold details are the key pieces to wear the navy style, also it looks great on bikinis or swimsuits, which can be mixed with bags and shoes.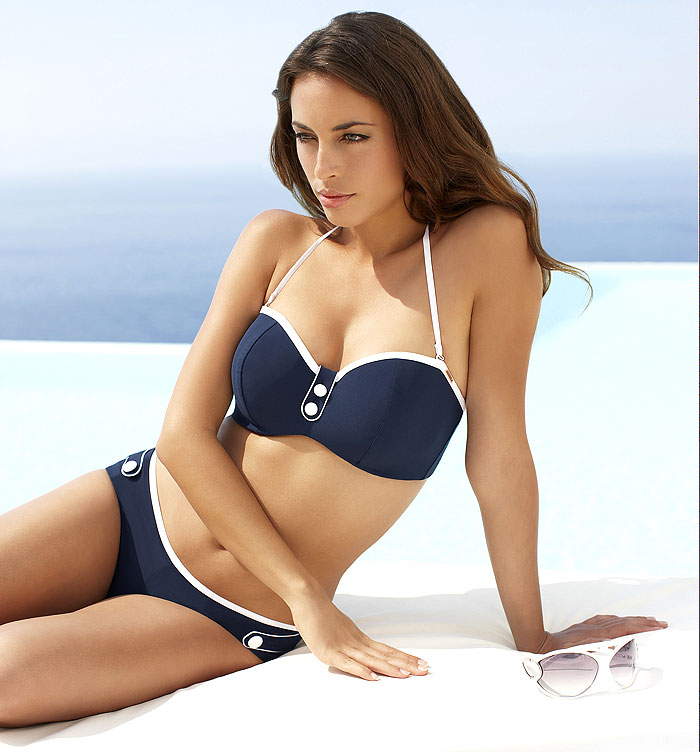 La clave para usar esta tendencia es ser precavida al momento de llevar las rayas, si son muy llamativas no se deben mezclar con estampados de más rayas, si no que con algo liso o neutro. Puedes además llevar alguna prenda de tonos oscuros o color neutro, y agregarle alguna otra prenda con estilo marinero o un accesorio, y así acertar con la tendencia. Hay que tener también mucho cuidado con el uso de rayas horizontales, ya que muchas veces nos crean un efecto óptico negativo, ¿el secreto?, usar una prenda a rayas con el espacio entre ellas no tan grande, o también rayas verticales.
The key to wear this style is to be cautious when you wear stripes, if they're too flamboyant it can't be mixed with some other stripes piece, it has to be with something neutral or plain. You can also wear some neutral or dark colour piece, and add another one with the navy style or an accesorie, and in this way get the sytle. There must be very careful also with the used of horizontal stripes, because most of the time they can create a negative optical effect, the secret? wear one strip piece with the space between them not that big, or also vertical stripes.
Espero que les haya gustado esta tendencia chicas, que es bastante cómoda y linda especialmente durante el verano (: cuidense mucho!! las amo!! muchos besitos a mis lindas seguidoras (: <3!!!
I hope that you liked this style girls, which is very confortable and cute specially during summer (: take care a lot!! I love you girls!!! lots of kisses for my lovely followers (: <3!!!
xx